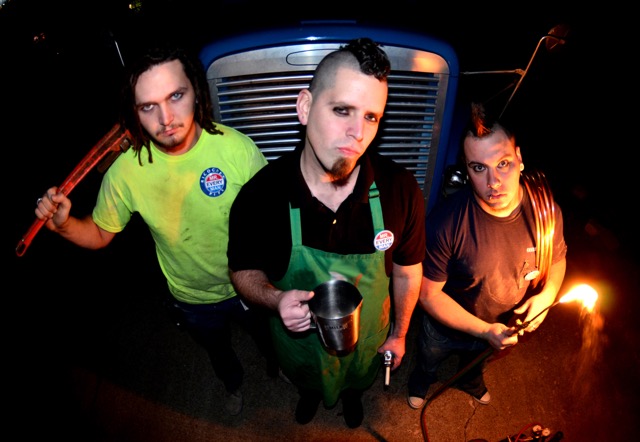 DOWNFALL 2012
---
Downfall 2012 is a 3-piece alternative metal/active rock band from Houston, TX.  This trio of vocalists/musicians/percussionists have built a sound and stage show that leaves each city it ventures to with a lasting impression of just how diverse a rock concert can be.  The band prides itself on their value of a production with entertainment and the ability to appeal to future fans who otherwise may never indulge in such a genre, while still holding on to those aggressive music enthusiasts in the front row of each show.  While they have been present and active for many years, a giant turning point for Downfall 2012 was teaming up with producer, engineer and videographer Jim Finley, who assisted in the creation and development of the music and video to "Everyman for Himself" a record broken into pieces and released as EPs in 2012-2014.  In addition the team invited Houston graphic artist A.Tomic to compliment the music with a conceptual visual that eventually became mini comic books which accompanied each EP release.  The singles "Divinity", "Heckler", and "Face to face" are in rotation on a number of FM and Internet radio stations, and have corresponding conceptual music videos.
Downfall 2012 opened 2015 by jumping on the "Art Saves" West Coast tour headlined by OTEP.  In the past they have shared the stage with acts such as: Hed pe, Powerman 5000, Filter, Nothing More, Twisted Sister, Alice Cooper, Twiztid, and many more.
Houston's leading rock station 94.5 the Buzz has awarded the band multiple "Texas Buzz Awards" including 2013's "Band of the year", "Best live performance", "Best Bass" and 2012/2014 Best  Drummer.
---